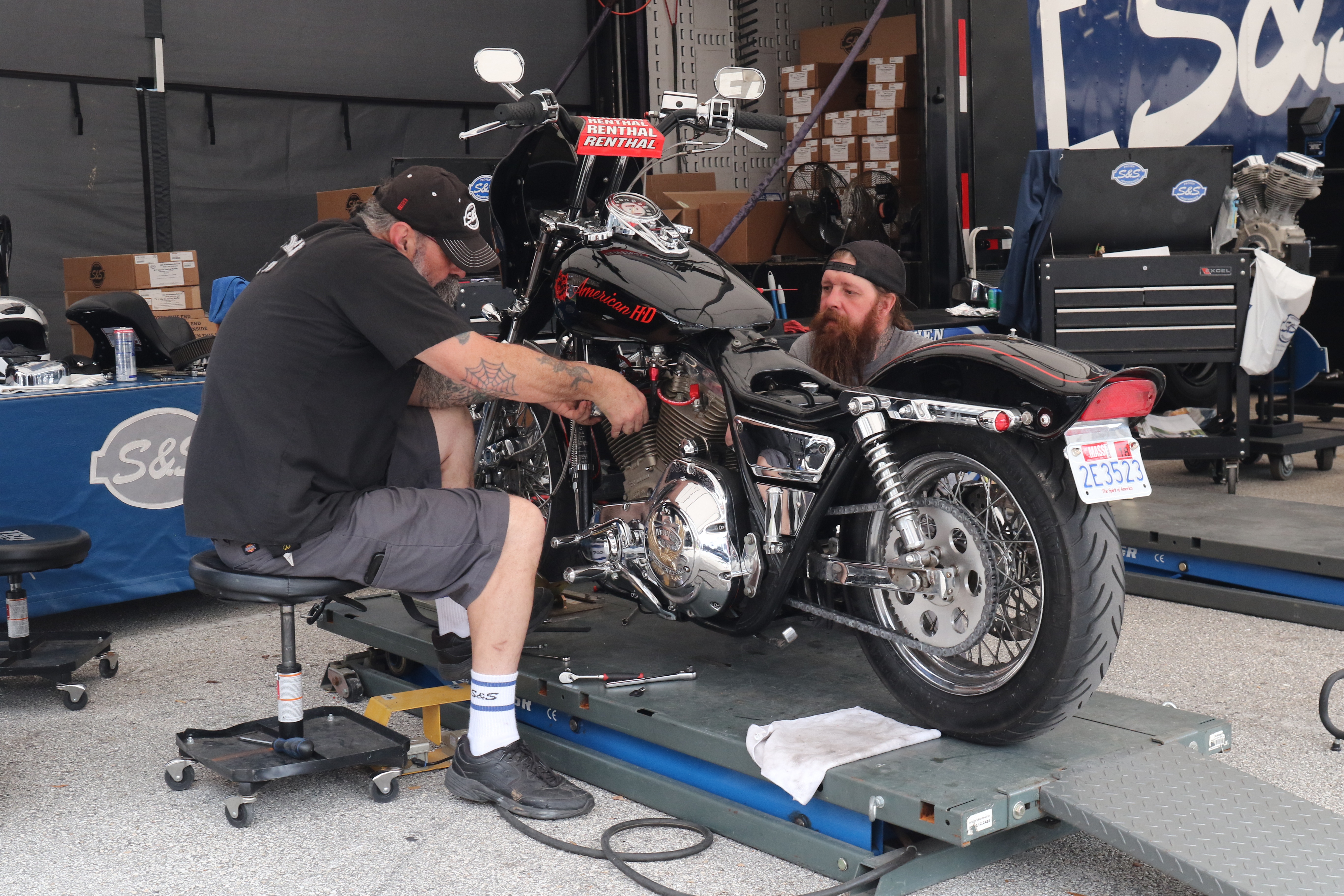 It's been a long winter.

No really. It's been a really, really, long winter.

At least, here in Wisconsin. If you're somewhere with snow, you know what I'm talking about. But, it's springtime, and it's time to get that bike out of the garage and back on the road.


BUT WAIT!
There's some things you should check first, before you crank it over. I know, I'm impatient too. But take some time and go over the list below and make sure you're good to go!

Clean it up
Give it a good wash, rubdown, or dust off.
Remove any items you may have plugged, like the exhaust, or items you used to keep pesky critters out of pipes, wiring, etc.
A good bath can show you any trouble spots, like leaks, etc.
It's a great time to give it a quick protective detail, like wax or protectant, on the paint, and don't forget the leather!
Oil It Up
Check, and change your oil. Drain your crankcase first, any bike with an oil tank that sits above the engine can let oil past the check ball into the lower end - resulting in you thinking the oil is low, adding some, and ending up with a huge mess!
Add fresh oil and filter - we have some 20w50 oil change kits for most bikes.
We recommend changing your oil after a long, often cold, winter, as condensation can build up. If your oil looks milky, definitely CHANGE IT.
Lube It Up
Check everything that needs to be lubed - chain, fittings, wheel bearings, etc. Check your bike's shop manual for specifics.
Fill It Up
Check all your fluids and change if needed. Primary, brake fluid, and coolant if applicable.
Check your brake lines, oil lines, and cables for wear, tear, and leaks.
Check your brake pads too!
Gas It Up
Drain that bad gas out - would you want to drink an old, flat bee.. pop? Probably not. Your bike doesn't either. Drain it, maybe your car is close to empty and would like the contribution!
Check your fuel lines for wear, tear and leaks.
If you have a carb, check it out, and clean if necessary. Check your air filter while you're there, too!
Charge It Up
Hopefully you've had it on a trickle charger, or brought the battery inside, but if not, check and charge your battery. Depending on the weather, sitting outside may warrant replacing it.
Air It Up
Check those tires! Check for cracks, bulges, stress marks and flat spots.
Check tire pressure with a gauge and refill to manufacturers recommended pressure.
Inspect EVERYTHING!
Take a good long look at your whole motorcycle. Check out the frame, the front end, the bars. Check all the fasteners, everything should be tight!
Check your electrical - make sure all your lights, switches and gauges work properly. Give that horn a test too!
Check all your levers and pedals and lubricate if needed.
Now is a great time to check your spark plugs! Follow instructions in your manual if you need help.
Prop the bike up with the front wheel up and give that front end a wiggle. Does the steering head feel loose? Are the fork seals leaking? Take care of it now, before you're in the midst of riding season!
Check your tool kit - make sure you have any tools you may need on the road, and don't forget to pack some spares! Things like extra spark plugs, fuses, chain master link, and spare bulbs can be a lifesaver on the road!
Last but not least,

WARM IT UP!
let the bike idle for a bit to get all those fresh fluids circulating.
keep in mind, it's probably been a while since you've ridden, so don't go trying those wheelies out of the driveway!
Don't forget, you should be checking your T-CLOCS every time - here's a list from the Motorcycle Safety Foundation.
Unsure how to do any of this? Don't fret.
Check with your local shop for some help! Here's our
dealer locator
.