So, you have just purchased and installed some S&S cams in your Twin Cam 88® or 96™ engine. You are excited to see the performance gain and anxious to hit the road with your newly acquired power! But what is this, you have less power than with your stock cam?! You start to work backwards in your mind through your install. Did I line up my timing marks properly? Did I verify that I got the correct cams in the package? Did I tune adequately?
This is a scenario that the tech line at S&S has encountered many times. The possible install errors are valid, but usually don't turn out to be the underlying issue. It turns out that the culprit causing the loss of power is a simple o-ring. The oil pump in a 1999-up Harley-Davidson® big twin engine scavenges oil from the crankcase flywheel cavity via a pickup tube that pokes through a hole between the cam chest and flywheel compartment. This connection is sealed by an o-ring, which creates an airtight seal between the pickup tube and the case, allowing the pump to suck oil efficiently from the crankcase. This airtight seal is extremely important because when compromised, the oil pump can suck air instead of oil. This results in the crankcase filling up with un-scavenged oil which slows your flywheels down, causing you to lose power. An easy way to understand what happens is to imagine how much better you can run on dry ground as opposed to running in a swimming pool.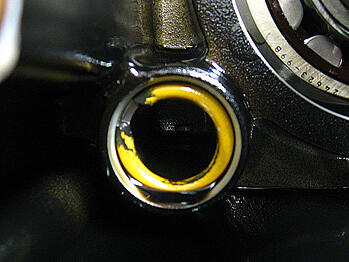 We were fortunate enough to work with one of our dealers, Gateway Big Dog of St. Louis, who encountered this issue on a bike that came into their shop. They were able to document the incident on a dyno. A customer brought a Twin Cam 96 with performance cams already installed, in for dyno tuning. The folks at Gate Way were extremely surprised when the 96" engine made only 54 hp and the two successive runs were each 5 hp worse. Tuning did not help, cam timing was correct and everything seemed to be installed properly. They called S&S for help with their problem. After gathering all of the information, we suggested that they check the oil pump scavenge o-ring. A little while later we received this picture.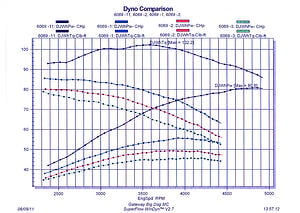 When the cams had been installed the stock o-ring had not been changed and was obviously damaged. Upon replacement of the o-ring, the oil pump was finally able to scavenge properly and as you can see by the dyno chart, the engine gained 25 hp and 16 ft/lbs of torque.
S&S has always instructed the inspection of this o-ring in our cam instruction sheets. But because of the number of incidents we have encountered recently, we have decided to add that o-ring to our cam installation kits and instruct that the o-ring be replaced whenever cams are installed. We have learned that even if the stock o-ring looks ok, it does become brittle and can fail to seal or even break when you reinstall the oil pump, just like you saw in the picture above. So save yourself time, money and aggravation and replace your o-ring, it could be worth 25hp!!!!