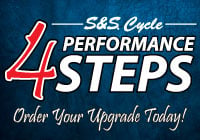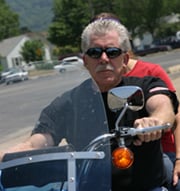 For the last three weeks I have been talking about the S&S 4-Step program to improve performance in Harley® Twin Cam 88® and Twin Cam 96™ engines. This week I want to tell you about our CNC cylinder head porting service, which is the fourth and final step in the program. Cylinder head porting is important because making your cylinder heads flow more allows you to get the greatest benefit from the increased displacement of the big bore kit. In the past cylinder head porting was as much art and experience as it was science, and in the development phase for a port design, it still is to a great degree. We have a pretty good idea what kind of port shape we want but we have to test a lot of variations to find the one that really performs. Modern technology including 3D computer modeling can help us calculate and design a port, but we can't rely on that alone. There are just too many variables.
As a result, we need to rely on a lot of experimentation and our own racing experience to develop our port design. It's not just a matter of putting a head on the flow bench to find out if it's going to work. We need to run these heads on engines to prove they really perform in the real world and that repeated use doesn't cause the valve seats to move losing valve seal. We did a lot of testing on the dyno and on the street to compare and finalize our port and chamber designs. I wanted the S&S heads to be the best. To be doubly sure they were, S&S obtained and tested modified heads produced by prominent competitors in the marketplace to establish performance targets for comparison purposes. That's why our company motto is Proven Performance.
Our goal was to make more power without sacrificing low and midrange torque. Big inch motors like our 124" Hot Set Up Kit® have different requirements from stock displacement engines, or even our 106" big bore kits. When designing ports for smaller displacement engines we need to increase flow without making the port much larger. We don't want to make the ports too big, because that would decrease the air velocity in the ports. Low port velocity will make the engine lazy at low rpm, so we kept the port diameter as small as possible and relied on the new shape of the port increase the flow. Once we have a great design, making copies of it is not really difficult with the right tools. The shapes of the ports and the combustion chamber are all digitized with a special three-axis coordinate measuring machine. This machine creates mathematical 3D models of the surfaces of the ports and chamber. It then outputs a program that our CNC machining centers can use to recreate those shapes. And of course, we test the CNC created ports to be sure they work as well as the prototype.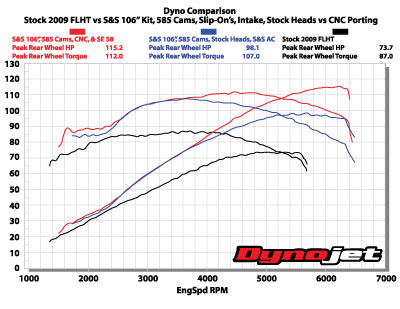 So what does this mean to you, the guy twisting the throttle? It means that when you send us your stock heads, we will put them on our CNC machining center to recreate our port and chamber shapes. Then your bike will make more power because your heads will flow just as well as our hand ported test heads, but we won't charge you for hours and hours of hand porting.
As part of the CNC porting package, (LINK) we assemble your ported heads with new valve seats, valve guides seals, forged stainless steel racing valves, and .640" single coil valve springs. This allows you to run a high lift cam to make the most of the increased flow. Your heads will come back ready to run. At $950.00 MSRP, this is about the best deal going.
One thing that I should mention is that when you look into the ports, there may be some areas that were not touched by the machining. That's because the stock ports have quite a bit of variation, and some ports they are slightly larger than others. This will not affect the performance. If we had made the ports large enough to ensure every head we machined "cleaned up", the ports would have been too large for engines in the 88 to 106 cubic inch range, and would actually hurt performance in the all important low and midrange rpm.
S&S CNC porting service is only available through S&S dealers, and is only for 1999-up Harley-Davidson® big twin engines for the time being. S&S is continually working on new port designs in an effort to constantly make our parts better, including some for earlier model H-D® engines. We'll keep you posted. Until next week. Go fast, but play safe.