If yo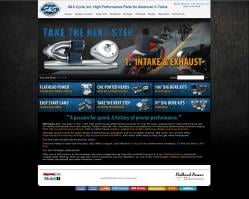 u are reading this blog entry (my first), you probably noticed we updated the
S&S website
. This is a project that we have been working on for some time. We realize the importance of the internet as a way to provide information to our valued customers and we're striving to use our website and social media to make as much information available to as many people as we can. The new S&S site is easier to navigate and provides much more content than our previous site. Of course the information we had in the old site is still here, but may be presented in a different manner. For example, our former Flathead Power® website is now incorporated into the S&S site, and the Flathead Power forum is still available. I hope you find the updated S&S website useful, returning often to see what we are up to.
S&S Cycle was founded in 1958, so we've been around the block a few times and have an excellent reputation in the industry for producing the finest aftermarket high performance parts for American v-twin motorcycles. S&S specializes in go-fast parts for Harley-Davidson® motorcycles, but we also offer some great products for Victory® as well. We've found that although the folks who have been riding for many years know us, many of the new riders who have recently discovered the great sport of motorcycling do not. With this updated website, we hope to spread the word so more bikers are aware of S&S Cycle and what we do.
I hope you enjoy the new site - come back often and tell your friends!