By S&S Racing Department Manager Justin Bramstedt
I recently attended the Frank Hawley Drag Racing School in Gainesville, FL. The class was taught by George Bryce from Star Racing. I was a 'classroom only' attendee and had no intention of riding the bikes. But even so, the experience was well beyond my expectations.
The first day started out with introductions. There were eight full program students and three of us who were 'classroom only'. The reasons for attendance ranged from bucket-list to full NHRA Pro-Stock motorcycle licensing. The age of students ranged from low 20's to upper 70's. Experience varied from street motorcycle rider to all-out proven champions who raced faster bikes in other classes. Several of the students were repeating the class.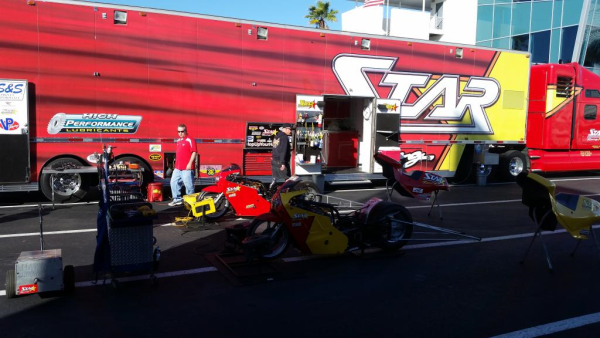 Next we were taught about the steps that were to be required in order to make a pass down the drag strip. There were three main steps required in order to make a pass; burnout, dry-hop, staging. Each step had another series of 20-30 steps. It quickly became obvious that no one was going to remember all these steps until they had practiced them. Oh yeah, and you have to let go of the handle bar when you throw the clutch lever to launch the bike and steer with your feet! So out to the track we went. The first lessons were getting acquainted with the bike, a slightly detuned NHRA Pro Stock style chassis capable of the 7.800 second quarter mile run required for an NHRA license. The full program students rode it down the track while being pushed to get the feel for steering, and braking.
Then it got progressively harder starting with a 60' pass and then a 330' pass and so on until the full ¼ mile. The first launches are an eye opening experience. As a spectator, I understood how serious the situation was for the rider but it was hard not to laugh when these crazy individuals tried to pop the clutch at WOT for the first time. For me the terms bucking-bronco and flying tomahawk came to mind. The act of launching one of these pro-level machines is no joke! It became obvious that much more was required of the racer than a simple series of steps. We even joked that more skid marks were left in their shorts than on the drag strip that day.
The day was wrapped up with Frank Hawley in the classroom explaining some of the science and psychology behind learning to launch one of these machines by reprogramming your subconscious mind through repetition in the conscious mind. It was explained that consciously we can only do one thing at a time while subconsciously we can multi-task. The problem is the unconscious mind is a slow learner and it can only be programmed through practice.
Day two brought a rested group of students who had rehearsed their routine step-by-step such that it was committed to their subconscious. Frank walked us through some more drag racing science involving reaction-time, bio-mechanics, vision, clearing your mind and controlling your emotions. All of which was very enlightening and applicable to everyday life.
The students were then allowed to practice their new programs and it was amazing to see how much they progressed over the next few runs. All in all, the experience is much more than just making a ¼ mile pass, it was more about programming your brain to do something new because of the number of tasks that have to executed in such a short amount of time. It gave me a whole new perspective on what it takes to race one of these machines on a professional level. Thanks to Frank Hawley and Star Racing for an excellent experience.