S&S Cycle attended the 2013 V-Twin Dealer Expo in Cincinnati, Ohio on Feb. 2nd and 3rd. The dealer expo in Cincinnati is a time-honored tradition in the motorcycle industry going back to the 1970s. It's a kind of a rite of spring that signals that the riding season is about to commence. The weather was anything but spring like, with snow, high winds, and freezing temperatures, but that didn't dampen the enthusiasm of the exhibitors or the dealers who come from all over the world to see the latest, up to datest products for Harley-Davidson® motorcycles and other American v-twins.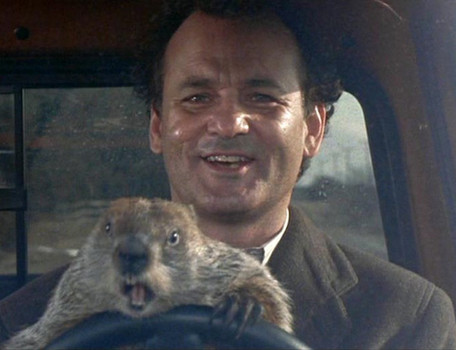 As a side note, Saturday, Feb. 2nd was groundhog day, and Punxsutawney Phil, the famous weather forecasting groundhog in Punxsutawney, PA did not see his shadow. So according to Groundhogologists who specialize in groundhog lore, we should have an early spring. That means an early riding season. We believe it because the prediction was backed up by our own Jimmy the groundhog in Sun Prairie, WI.
Among the new products released at the show, one that generated the biggest buzz was the new S&S® Lubricants product release. The S&S Lubricants line includes both full synthetic and petroleum based engine oil and transmission oil, as well as an extreme duty primary oil. Other popular products were the Viola V-Twin™ service parts offering, the new 883 to 1200 conversion kit for 1986-present 883 Sportster® models, the Power Tune Sport exhaust system for 2004 and later Sportster models, the 4" Race/Tour mufflers for 1995 and later baggers, S&S Premium Tappets for 1999-later big twins and 2002-later Sportster models, Throttle Hog big bore throttle bodies for 2008-up baggers and other models with electronic throttle control (AKA throttle-by-wire), and the improved B2 cylinder heads that now accept a two-bolt exhaust flange and can be adapted to stock exhaust headers. Another service that was well greeted with some excitement was the new S&S Service & Speed Center™ (SSC). The SSC is a service that S&S provides to S&S dealers which includes engine remanufacturing, performance upgrades to stock Harley-Davidson® engines, machine shop services, and custom engine building.
As usual, the S&S and Crane Cams® booths were very busy, talking with shop owners who were eager to learn about the latest S&S products for the coming season. In addition, S&S Cycle Sales Manager Shane Whitty presented two seminars on new S&S products and S&S Cycle Product Manager Jeremy Gilbert was a guest on a panel discussion called "From The Track To The Show Floor", to talk about how racing can help generate sales in your business.
The V-Twin Expo is a dealer only show, which means that the general public can't get in, but S&S attends all the International Motorcycle Shows (IMS) and most of the major rallies. So if you're not an S&S dealer and you want to see all these new goodies for yourself, take a look at our events schedule on the S&S website and see when we'll be at a show near you.
We're also very proud to announce that our own George B. Smith, son of S&S company founder George J. Smith, was presented with a Lifetime Achievement Award from V-Twin Magazine at an awards ceremony on Saturday evening after the Expo. George is responsible for many of S&S Cycle's innovations and accomplishments since he took over as company president after the tragic death of his father in 1980. Those accomplishments are in both product development and racing. George has since retired as company president, but he remains chairman of the S&S Board of Directors. George could not be on hand to accept the award due to a prior commitment, so the award was accepted in his stead by current S&S company president Steve Iggens. Steve was accompanied on stage by the entire S&S show crew because George wanted to recognize that without the dedication and hard work of the S&S employees, he would not have been able to make it all happen. In his written acceptance, which was read by Steve Iggens, George recognized a number of S&S employees who had been with the company for over 25 years, some in excess of 40 years.