Anders Nygren, founder of the original Flathead Power company in Sweden, recently visited S&S Cycle. He was accompanied by his son Magnus and freelance magazine writer and knucklehead enthusiast, John Endrizzi. John was along to do research for a magazine article on Flathead Power and S&S Cycle.
Anders started Flathead Power in Sweden in the early 1990's as a way to get parts to fix his own engines. The business grew to be known for their quality parts for vintage motorcycles. To take advantage of reduced shipping costs and access to the larger American vintage motorcycle market, Anders partnered with some American backers and the company moved to Morgan City, Louisiana. The move turned out to be ill fated and Anders was forced to leave the company and returned to Sweden.
S&S Cycle Inc acquired the Flathead Power brand name, intellectual property, tooling and remaining inventory in July of 2007. At the time that transaction occurred, Anders had already gone back to Sweden.
Mr. Nygren was in the States for a about a week, during which he was visiting relatives, touching base with old friends, and buying parts for his hot rod Chevy truck that his son drag races back home in Sweden. We were really happy that he was able to fit in a visit to S&S Cycle. After all, our location is a little out of the way. If you end up in Viola, Wisconsin, either you really want to be there, or you're really lost!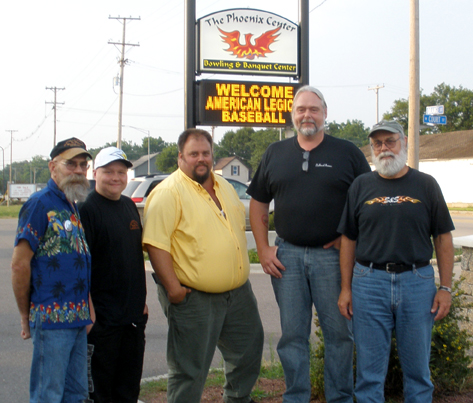 After touring the S&S facility, the whole crew met in Richland Center for dinner to give Anders a send off before he and his son drove back to Chicago. Left to right: John Endrizzi (in an exceptional shirt), Magnus Nygren, Eric Wangen, Anders Nygren, and Bruce Tessmer.
Anders toured the S&S museum and manufacturing facility, which has changed tremendously since he was last here in 2003, as far as any of us can recollect. He was particularly interested in how S&S machines the parts and assembles the KN series engines. Flathead Power Product line manager Eric Wangen, and Marketing Manager Bruce Tessmer served as tour guides and hosts for the visit. While Anders was here we shot a video interview, which you can see here in the blog.
In this video interview, Anders Nygren, founder of Flathead Power in Sweden talks about how he got started in the vintage motorcycle parts business and how he ended up leaving the company.